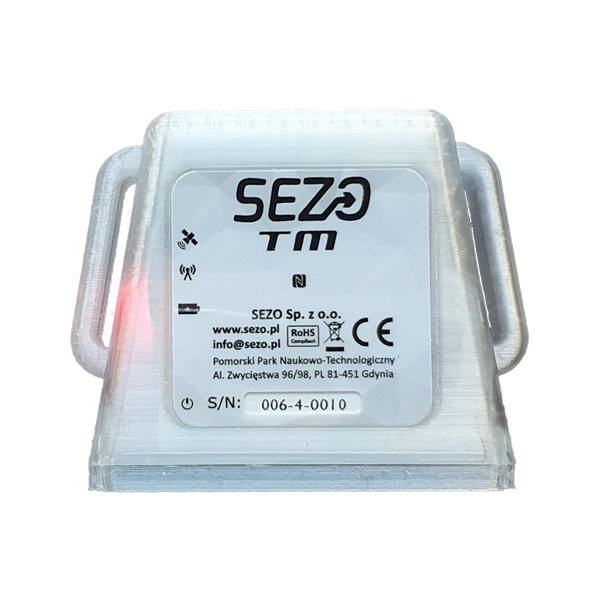 SEZO TM
Geolocation System
SEZO TM is a multifunctional 3D tracker with GNSS geolocation, geofence and altitude measurement. Additionally, SEZO TM has a configurable NFC tag for access control.
BATTERY POWERED
SEZO TM is battery powered. The fully charged battery allows for up to 22 hours of real time tracking. The built-in 2000 mAh battery is charged wirelessly, in compliance with the QI standard.
LTE-M TECHNOLOGY
LTE-M is a low-power long-range network designed specifically for IoT devices for direct connection to 4G networks. It supports high-speed data transfer enabling real time communication – thus enabling monitoring of resources.
PLATFORM INTEGRATION
SEZO TM is integrated with the Orange Live Objects platform, which facilitates the preview and analysis of the data collected by the device through easy USB configuration or preconfiguration of the device according to customer requirements. It is also possible to connect the device to another, already existing platform that your company uses, thanks to the possibility of easily establishing a network server, eg The Things Stack, Chirpstack. The decoder is available for download on github SEZO.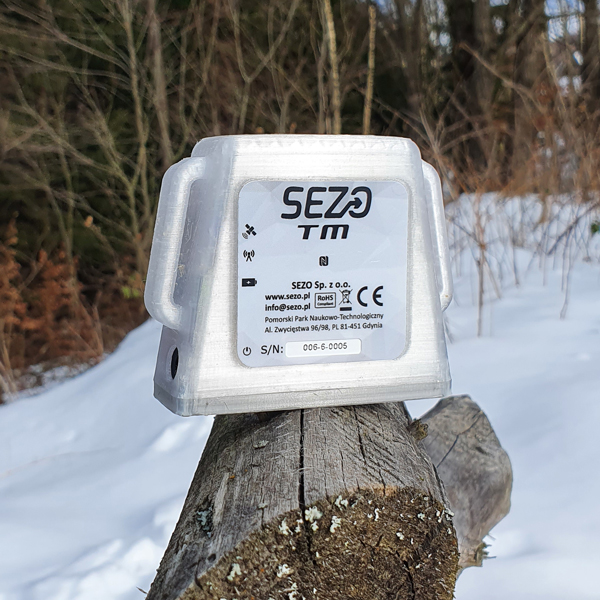 SEZO TM is a 3D tracker – this means that in addition to determining the position of the transmitter, it can also determine at what altitude it is located.
The SEZO TM device enables GNSS geolocation with geofence function. Thanks to that it is possible to determine the geofence area, i.e. the zone of movement of available resources (e.g. machines on the construction site).
The SEZO TM tracker also has an integrated loudspeaker to play back the received voice messages.
SEZO TM can be configured to suit your needs, remotely – via Bluetooth or mobile network.
It is also possible to configure the NFC tag for access control (e.g. people to individual zones or rooms).
SEZO TM has a function to detect and inform about accidents (by tracking the acceleration or an impact).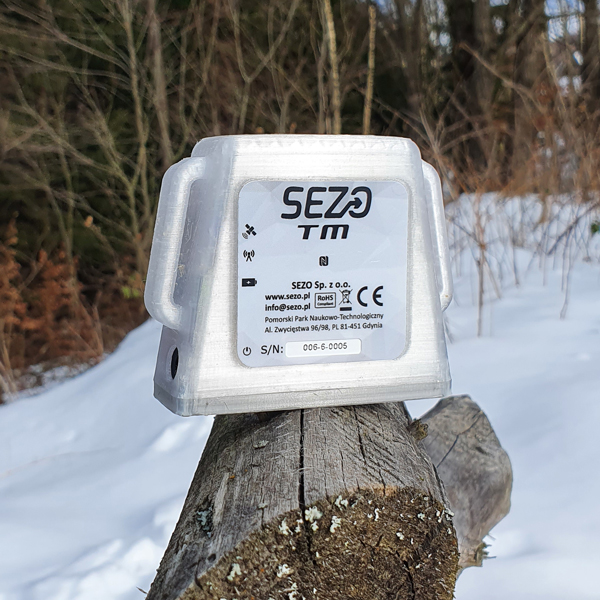 Get in touch with us to create a personalised system tailored to your needs. We will be happy to provide support starting with the concept phase and ending with the implementation of your system.
INDUSTRIAL PRODUCTION SITES

SEZO TM enhances the safety of people working in manufacturing, chemical and refinery facilities – wherever wearing of a safety helmet is required.
SEZO TM placed on a helmet enables 3D location – it allows to determine in which building and on which floor the employee is located. In the event of a collision or fall, the production supervisor is immediately informed of where the hazard has occurred, which significantly reduces the response time and thus increases safety in dangerous working environments. SEZO TM is also equipped with a loudspeaker that generates an alarm in the event of danger (e.g. a fall or impact) – alerting people in the close vicinity.
In addition, SEZO TM can be used as a programmable access card thanks to its built-in NFC tag – preventing unauthorized access e.g. to individual production halls.
SEZO TM is ideal as an additional security system on the site. 3D geolocation of people on the construction site significantly increases the employees' safety thanks to the possibility to determine their position with an accuracy of 1 meter in external conditions. In the event of a fall or impact, SEZO TM generates an alarm and sends out information about the accident, enabling shorter reaction times.
SEZO TM is equipped with a 2000 mAh battery, which provides up to 22 hours of real-time tracking. The battery is charged wirelessly (Qi standard). The device can be configured (e.g. data transmission intervals) via Bluetooth or mobile network, which makes it much easier to use SEZO TM and allows you to adjust it to your needs and applications.
The device sends data to Orange Live Objects platform.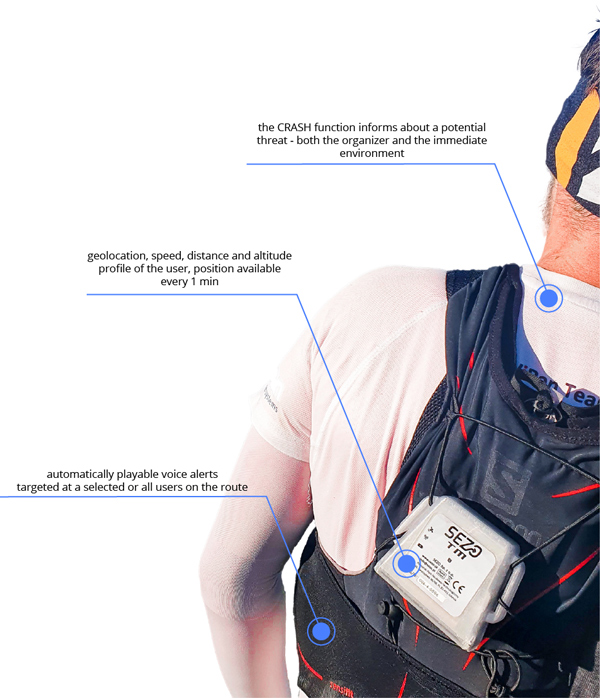 TRACKER SEZO TM – LIVE EMOTIONS
SEZO TM directly affects the safety of participants in mass running events as well as those who prefer running alone. SEZO TM not only makes it easier to keep track of the runners' current positions, but also to contact them through a built-in loudspeaker, enabling voice messages to be sent both to selected or all users (in case of a mass event; informing e.g. about an upcoming storm).
The built-in accelerometer allows to detect a runner's accident – after recording an impact or a fall, the device activates an audible alert once, and an alarm diode placed on the device sends light signals. At the same time, in the case of mass events, the organiser receives information about a potential threat. All this happens without the participation of a runner, so it is also effective in case of loss of consciousness.
If, after activating the CRASH function, the device detects movement (thanks to GPS), the alarm diode stops blinking and the organizer receives information about cancelling the alarm.
The use of the LTE-M system in the SEZO TM device provides better coverage even on difficult terrain, and thus greater reliability.
Do you want to share information about SEZO TM with your company's CTO?
Send a link to this page or attach a brochure in PDF format – available for download below.
Geolocation (±1m in outdoor conditions),

Impact / acceleration (accident detection),

Altitude: ±1m accuracy if pressure reference is on site (e.g. SEZO EL)
LTE-M, NB-IoT and E-GPRS
Bluetooth Low Energy
NFC
Data transmission interval
Default 15 seconds, configurable interval (buffering available – data can be gathered in device memory and sent in bulk transfer)
Transmission triggered by alert (e.g. accident, acceleration)
Up to 22 hours of live tracking,
Sleep mode,
2000 mAh battery capacity (rechargeable, inconvertible),
QI wireless charging
IP67, material: CPE
Mounting brackets
Length 81 mm, width 68 mm, height 44 mm
Contact us to create a system tailored to your requirements. We will be happy to provide support from the concept phase to the implementation of your system.
Our engineers are experienced in solving EMC problems - you can be sure that the tested device is EMC compliant.
aleja Zwycięstwa 96/98
81-451 Gdynia, Poland
Copyright © 2023 SEZO Sp. z o.o.