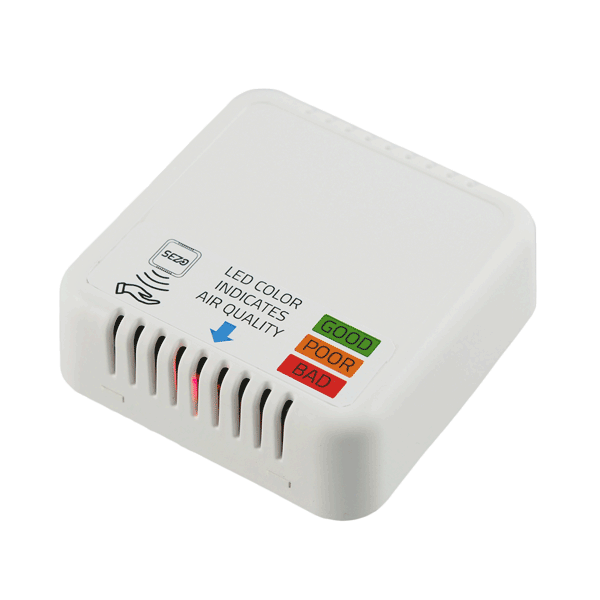 SEZO CL
Monitoring Comfort Zones
SEZO CL is a compact low-power telemetric device, measuring temperature, humidity and light intensity, as well as indoor air quality based on VOCs (Volatile Organic Compounds). It is designed to monitor indoor conditions for various scenarios, including sub-zero temperatures.
BATTERY POWERED
SEZO CL is battery powered. The use of low power LoRaWAN technology extends the battery life of the device up to 3 years of SEZO CL use. This allows the device to be mounted in any place, even in a hard to reach.
LORAWAN TECHNOLOGY
It allows the devices to use unlicensed ISM band – which means no subscription fees are required. The devices using LoRaWAN send data either after being triggered by an event (e.g. movement, switching on the light) or based on a fixed schedule (e.g. every 15 minutes).
PLATFORM INTEGRATION
It enables easy USB configuration or device preconfiguration according to customer requirements. It is also possible to connect the device to another, already existing platform that your company uses, thanks to the possibility of easily establishing a network server, eg The Things Stack, Chirpstack. The decoder is available for download on github SEZO.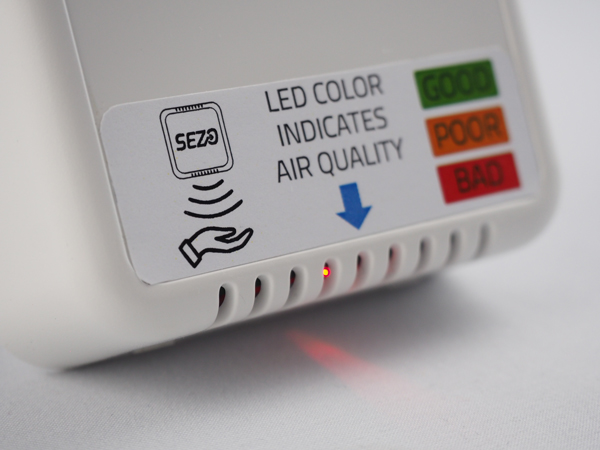 SEZO CL measures such parameters as indoor air quality, light level

, 

temperature, air pressure

 and 

humidity

.

SEZO CL 

transfers data at the time of the event or at user-defined intervals. The device is 

configured via USB

.

SEZO CL 

can be used 

indoors

, also in situations where the temperature in the building is below zero – it works without interruptions at temperatures from 

-30 to +60°C

.

LoRaWAN technology enables long-distance data transmission – the distance between the device and the gateway can be up to 10 km.
SEZO CL 

device is 

battery-powered

 and thanks to the use of LoRaWAN technology for long-distance transmission, the life of SEZO CL batteries is up to 3 years.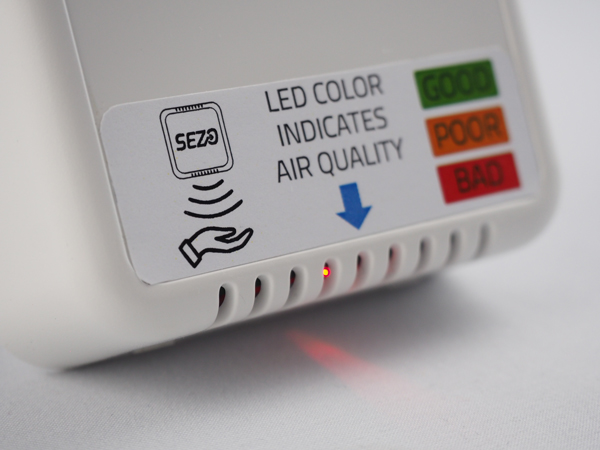 Get in touch with us to create a personalised system tailored to your needs. We will be happy to provide support starting with the concept phase and ending with the implementation of your system.
The SEZO CL device enables controlling of the environment on the premises to ensure optimal conditions for storage. It is especially important in case of FMCG (Fast Moving Consumer Goods) such as packaged foods, pharmaceuticals or toiletries, where the right temperature, as well as levels of humidity and luminosity need to be ensured.
Facility managers easily leverage SEZO CL and its features because the installation process is seamless. Thanks to the fact that the device is compact and battery-powered, all that needs to be done is to install it (by gluing or screwing it on) in a place where you want to monitor the temperature, humidity level or light and the device is ready for operation.
SEZO CL is capable of sending data via LoRaWAN to Orange Live Objects platform.

SEZO CL, thanks to its ability to measure such environmental parameters as temperature and humidity, is leveraged by office managers to ensure not only comfortable, but also stable working conditions for the employees. Each parameter is configurable via USB and can therefore be adjusted to any specific needs.
SEZO CL also allows you to monitor indoor air quality in real time – by bringing your hand close to the device, the color of the LED will determine the current indoor air quality. In this way, the device ensures optimal conditions for office workers.
The device has an alarm threshold configuration for all measured parameters and is capable of sending data via LoRaWAN to Orange Live Objects platform.
SEZO CL makes healtcare facilities such as hospitals or private clinics more comfortable for the users.
Building management levarages SEZO CL to control the temperature, humidity, indoor air quality and luminosity on the premises. Thanks to the possibility of configuring alarm thresholds, building managers determine the optimal conditions necessary to ensure the comfort of people staying on the premises. This is important not only for the hospital or clinic staff, but above all for the patients – the room conditions have a significant impact on their health and well-being.
The device is capable of sending data via LoRaWAN to the Orange Live Objects platform.

The SEZO CL device is used by greenhouse owners.
SEZO CL helps ensuring that a certain temperature, humidity and light level within the greenhouse is maintained. This, in turn, helps preserve a climate within the greenhouse optimal for the plants requiring such regulated conditions.
Thanks to the high sensitivity of the device and the accuracy of the measurements, the environment can be very precisely controlled.
The device is compact and battery-operated, which makes it exceptionally easy to install – also without using any screws.
The SEZO CL device sends data via LoRaWAN to the Orange Live Objects platform, which offers an easy and transparent way to monitor and analyse the data.
Do you want to share information about SEZO CL with your company's CTO?
Send a link to this page or attach a brochure in PDF format – available for download below.
Temperature, Humidity, Air pressure, Luminosity, Indoor Air Quality
Measurement range and accuracy
Temperature: -30 ÷ 60°C, typ. ±0.5°C, max ±2°C

Humidity: 0 ÷ 100% [%RH], typ. ±4%, max. ±7% @25 [°C]

Air Pressure: 300 ÷ 1100 [hPa], typ. ±1 [hPa] max. ±3 [hPa]

Luminosity: 0 ÷ 1000 [lx], typ. ±10%, max ±35% @500 [lx]

Indoor Air Quality: 0 ÷ 500 [IAQ Index]
LoRaWAN v1.0.3, Class A device
Frequency and transmission power
Data transmission interval
Default 15 minutes (configurable) or event-triggered
IP40, ABS, four mounting holes
Body: 74 x 74 x 25.5 [mm]
Contact us to create a system tailored to your requirements. We will be happy to provide support from the concept phase to the implementation of your system.
Our engineers are experienced in solving EMC problems - you can be sure that the tested device is EMC compliant.
aleja Zwycięstwa 96/98
81-451 Gdynia, Poland
Copyright © 2023 SEZO Sp. z o.o.