SEZO™ EL
Monitoring Indoor Air Quality
SEZO EL is a compact sensor device, measuring indoor air quality based on VOCs (Volatile Organic Compounds), environmental parameters, luminosity and noise level, with a built-in accelerometer, magnetometer and motion detection. This handy device is suitable both for indoor and outdoor environment monitoring.
BATTERY POWERED
SEZO EL is powered by lithium batteries with a total capacity of 13000mAh. The use of low power LoRaWAN technology extends battery life up to 5 years of SEZO EL use. Thanks to this, the device can be installed in any place, even in a one that is difficult to access and can be considered maintenance-free for up to 5 years of usage. 
LORAWAN TECHNOLOGY
It allows the devices to use unlicensed ISM band – which means no subscription fees are required. The devices using LoRaWAN send data either after being triggered by an event (e.g. movement, switching on the light) or based on a fixed schedule (e.g. every 15 minutes).
PLATFORM INTEGRATION
It enables easy USB configuration or device preconfiguration according to customer requirements. It is also possible to connect the device to another, already existing platform that your company uses, thanks to the possibility of easily establishing a network server, eg The Things Stack, Chirpstack. The decoder is available for download on github SEZO.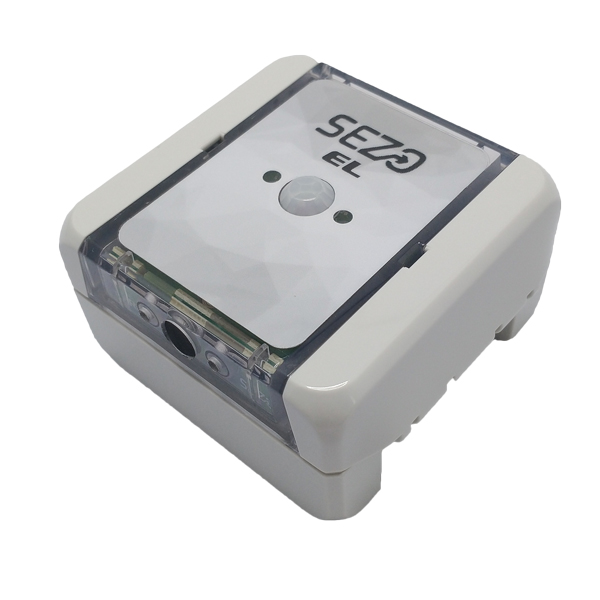 SEZO EL monitors environmental parameters such as indoor air quality (VOCs), temperature

,

 

humidity

, 

atmospheric pressure, light intensity

 and 

noise level

.

Built-in accelerometer and 

PIR sensors

 allow detection of human presence within a range of 1 meter from the device.

SEZO EL transmits data at the time of an event (e.g. motion detection) or in user-defined intervals. Configuration is via USB.
SEZO EL 

can be used both indoors and outdoors – it operates without any interference at temperatures ranging from 

-30 to +60°C

.

LoRaWAN technology enables long-distance data transmission – the distance between the device and the gateway can be up to 10 km.

The SEZO EL is battery-powered and the battery life span is up to 5 years.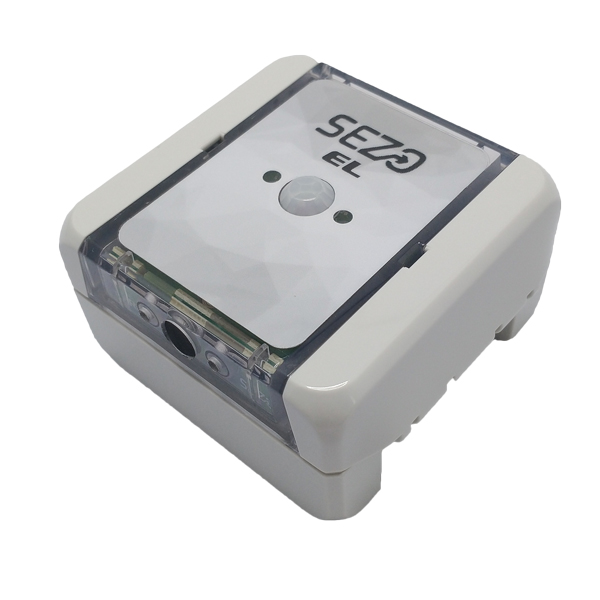 Get in touch with us to create a personalised system tailored to your needs. We will be happy to provide support starting with the concept phase and ending with the implementation of your system.

SEZO EL makes refineries and chemical production companies more secure.
Facility managers leverage the SEZO EL device to measure shocks and movements of critical facility components and machinery, thanks to the built-in accelerometer.
The device can be adjusted to clients individual needs, involving the measurement of basic environmental parameters, i.e. temperature, humidity, atmospheric pressure and sound levels. The device has an integrated alarm threshold configuration, giving the user the capability to adjust alarm thresholds of all measured parameters (such as temperature, humidity, light, as well as acoustic intensity).
The device is capable of sending data to the Orange Live Objects platform via LoRaWAN.

SEZO EL makes public institutions more comfortable and more efficient.
Public facilities like libraries, museums or city halls leverage SEZO EL capabilities such as monitoring temperature, humidity, sound level, and illumination to make the space more comfortable and efficient. Thresholds for the measured parameters can be set individually through the build-in alarm threshold configuration.
The integrated accelerometer enables measurement of shocks and/or movements (e.g. of objects such as doors or exhibition pieces) and can potentially decrease response time of facility security (more reliable than CCTV).
The device is capable of sending data to the Orange Live Objects platform via LoRaWAN.

SEZO EL makes school a safe and comfortable place for children and staff.
School management leverages SEZO EL to keep track of the noise levels on the school premises to prevent children and staff from being repeatedly exposed to potentially harmful sounds' volume.
SEZO EL monitors indoor air quality inside clasrooms. Paints or plastic toy parts can release volatile chemicals when exposed to heat. These can cause breathing problems, nausea, and pinched eyes – which is why it is important to regularly check the effectiveness of ventilation in school rooms.
The device is battery-powered , and can therefore be used conveniently in various locations. A single battery can last for up to 5 years of constant usage, making the usage hassle-free.
The device is capable of sending data via LoRaWAN to the Orange Live Objects platform.
INDUSTRIAL PRODUCTION SITES

SEZO EL enhances security processes at industrial manufacturing sites.
The device is capable of sending data to the Orange Live Objects platform via LoRaWAN and pulls data from the environment like e.g. sound levels. SEZO EL device is powered by a 13000 mAh battery.
The device has an integrated PIR (infrared) sensor, so it can detect the presence of people (like light detectors). This can be used as an alarm function, individually configured by the user. PIR sensors are commonly used in security alarms and automatic lighting applications.
The device has an alarm threshold configuration for all measured parameters.
Do you want to share information about SEZO EL with your company's CTO?
Send a link to this page or attach a brochure in PDF format – available for download below.
VOC concentration, temperature, humidity, atmospheric pressure, luminosity, noise level and motion (PIR)
Measurement range and accuracy
IAQ (Indoor Air Quality), range 0-500, typ. ±15, measurement resolution 1
Temperature: -30 ÷ 60°C, typ. ±0.5°C, max ±2°C
Humidity: 0 ÷ 100%, typ. ±4%, max. ±7% @25°C
Air pressure: 300 ÷ 1100 hPa, typ ±1 hPa max ±3 hPa
Luminosity: 0 ÷ 1000 lx, typ. ±10%, max ±35% @500lx
Noise: 40 ÷ 100dB, ±6dB at voice frequency band
PIR motion detection: 10 [m] range for a human-sized object
Accelerometer: 0 ÷ ±157 m/s2 , max. ±7%
Magnetometer: 0 ÷ ±49gauss, max. ±7%
LoRaWAN v1.0.2, Class A device
Frequency and transmission power
Data transmission interval
Default 15 minutes (configurable) or event-triggered
5x LS 14500 (13000 mAh), optional 10x LS 14500
IP55, polycarbonate, four screw holes
225 g with standard battery setup
Length 89 mm, width 80 mm, height 48.5 mm
Contact us to create a system tailored to your requirements. We will be happy to provide support from the concept phase to the implementation of your system.
Our engineers are experienced in solving EMC problems - you can be sure that the tested device is EMC compliant.
aleja Zwycięstwa 96/98
81-451 Gdynia, Poland
Copyright © 2023 SEZO Sp. z o.o.